Intent on including a diverse array of viewpoints and experiences in its Faith, Food & the Environment project, Catholic Rural Life is willing to travel to share its message and foster widespread involvement.
Executive director Jim Ennis and Dr. Christopher Thompson, the secretary of CRL's board of directors, will take part in an international conference in France next month. The event is being organized by Journees Paysannes, a French association that "aims to show that the profound identity of agrarian life in the service of society corresponds to the needs of our time."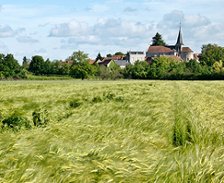 Ennis and Thompson will take part in workshops  and have the opportunity for fruitful conversations with other attendees. Ennis will give a presentation entitled "Family Agriculture & Rural Church," while Thompson will speak on "Rural Families and Co-Creation." The event will be held February 22-23 in a rural town about an hour and half south of Paris.
Meanwhile, focus groups with agricultural workers, food business professionals, and sustainable ag proponents are being held across the U.S.
"The aim is to bring as many people to the table, to make sure that all areas and aspects of agriculture are informing this project," said Ennis. "It's not just about geographic diversity, but a diversity of experiences as well."
CRL is seeking to build off the momentum of the inaugural Faith, Food & the Environment symposium, which was held this past November. That event brought together over 70 leaders in agriculture and food, theology, and environmental studies to explore how faith traditions can help provide solutions for today's most pressing agricultural challenges.
An international seminar devoted to the same theme will take place in Milan in June 2015. The ideas that emerge from that seminar, as well the November symposium, focus groups, and other meetings, will be used to develop The Vocation of the Agricultural Leader, a collaboration with the Pontifical Council for Justice and Peace that will produce resources equipping leaders in food and ag with faith-based applications to their work.
To learn more, visit the dedicated project website.